At Leyland Trade, we like to keep things simple. That's why we have kept our range focused and reliable, providing all of the essentials a handyman needs to do a good job. Like our
Hardwearing Matt
, a tough, moisture-resistant paint suitable for kitchens, bathrooms and busy areas, or there's our
Fast Drying Satin
and
Gloss
trim range, designed to help you finish your job in a day.
Strong, Established, Reliable
We've built up a strong reputation by delivering top quality paint for over 100 years. It all started in 1922, Leyland Paints was one of the first manufacturers to pioneer the development of emulsion paints for the home owner. The introduction of Leytex Water Paint marked a major advance in paint technology and was quickly adopted by the trade. It was one of the first truly modern paints and
Super Leytex Matt
emulsion remains a bestseller today. Did you know:
In a year, enough Leyland Trade paint is sold to cover 340 million square metres of surface – that equals the same area as 48,000 football pitches.
During the Second World War, Leyland Paints did its bit for the war effort, moving most of its paints production over to supplying the army and the government with paint.
Take a look at the highlights from the past 100 years: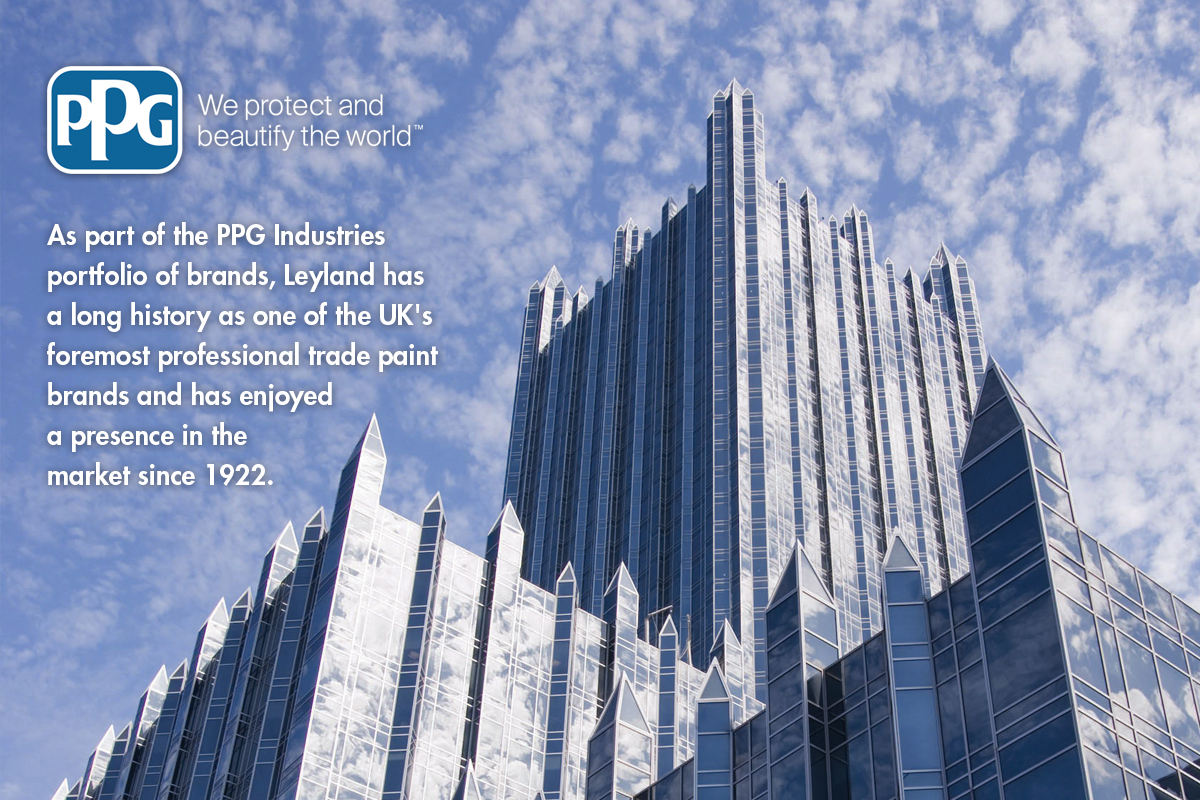 We are proud to be part of PPG Industries who is one of the world's largest suppliers of paints, coatings, optical products, speciality materials, glass and fibre glass. Founded in 1883 and based in Pittsburgh, USA, PPG operates in around 70 countries worldwide. In 2017, the average number of employees was 47,000 and net sales were $14.8 billion.

PPG Industries' vision is to be the world's leading coatings company by consistently delivering high-quality, innovative and sustainable solutions that customers trust to protect and beautify their products and surroundings. This vision will guide us on our journey toward our common goals and principles.

Other brands within the PPG Architectural Coating UK & Ireland business include: Leyland Retail, Johnstone's Trade, Johnstone's Retail, Fat Hog sundry products, each offering a highly comprehensive product range for the paint market.
The environment is a core consideration throughout the manufacture process through to the end use. We enjoy seeing our products help specifiers achieve high sustainability ratings, and we love being involved in community initiatives. Click here to find out more.
Find out more about PPG Industries here
Find out about our Modern Slavery and Human Traffic statement here
Find out about our Gender Pay Statement here
The PPG logo is a registered trademark of PPG Industries Ohio, Inc ©. All Rights Reserved.