Fast Drying Range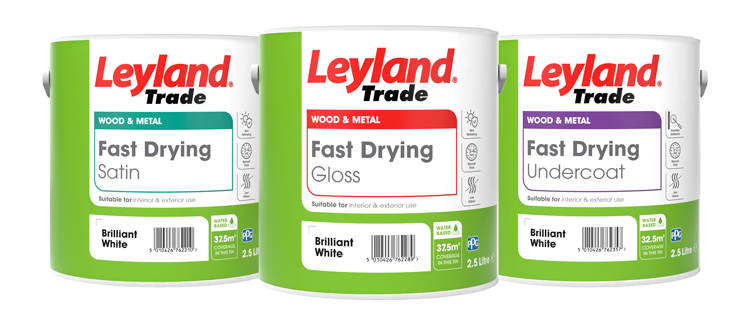 Does the range provide a durable finish?
The Fast Drying Range is a durable system and is ideal in high traffic areas (e.g. skirting boards in a corridor).

What surfaces can the range be applied to?
Interior and exterior woodwork jobs, like front or internal doors, window frames and skirting boards (the Fast Dry systems excels on timber). As well as, interior and exterior metalwork jobs, for example radiators and gates etc.

What methods of application can be used?
The Fast system can be applied via:
Brush - our tip is to use the best quality synthetic brush you can afford
Roller - a high quality short pile microfibre roller/glosser roller – do not use a foam roller.
Spray - this can be used through HVLP and Airless machines – Ensure to use suitable respiratory equipment, and use in a well ventilated area, when spraying. For more information, read our paint spraying guide or c

ontact PPG Extra for further information/advice (contact details below)
Is there anything you need to do to prepare a metal / wooden surface?
Softwood/MDF:
All surfaces should be sound, clean and free from any surface contaminants such as grease. Treat any knots with two thin coats of knotting solution, and allow to dry, sanding lightly before priming. Apply a diluted coat of the
Fast Dry Undercoat
– dilute up to 10%, this acts as the primer. Once dry, fill and make good all nail holes and joints with a suitable filler. Once dry sand back to a smooth level surface, and again prime these filled areas.
Once the above is fully dry, lightly sand to a smooth finish, ensuring not to break through the coating, then apply an undiluted coat of the
Leyland Trade Fast Dryng Undercoat
.
Again lightly sand the surface and then apply your chosen top coat, either
Fast Drying Satin
, or
Fast Drying Gloss
. For exterior work, two top coats is advised, for added protection.
Metal:
The Fast Dry system can be applied to suitably primed, or previously coated metal surfaces. Ensure the surface is rust and grease free, removing rust via a suitable method, and washing the surface with a suitable cleaner and degreaser.
Any bare metal should be primed using
Leyland Trade Anti-Corrosive Metal Primer
and allowed to dry. Lightly sand and apply a single coat of Fast Dry Undercoat. Once dry, lightly sand again and apply either Fast Dry Satin or Fast Dry Gloss, the more top coats you apply the greater the protection.

Previously painted oil/solvent based surfaces:
Clean and degrease the surface using a sugar soap solution, in the same process use a waterproof abrasive paper to sand the surface, then rinse with clean water. Once dry, apply the Fast Dry Undercoat, and allow to dry. Lightly sand and apply the chosen Fast Dry top coat.

*When sanding any surface, it is better to do so as a wet process, using a wet and dry type abrasive paper, helping to minimise airborne particles.
How long should you wait between coats?
The Fast Drying Undercoat takes 1-2 hours and the Fast Drying Satin and Gloss takes 3-4 hours. These drying times does mean you can get the job done in a day!
Certain external factors can delay the drying times of these coatings, and we advise to not apply in air or surface temperatures below 10°C, or when rain is imminent.
What are your top tips to achieve the best finish?
The Fast Dry range is a system of products, which means you will get the best finish possible, by using the Fast Dry Undercoat, followed by the Fast Dry Satin or Gloss.

Water based products dry extremely fast, so to get the best finish the advice is to apply it, lay it off and leave it. Resist the urge to over brush, or go back, it will spoil the finish. We also advise to apply slightly more paint than you would when using a traditional oil/solvent based products, this helps with the flow, and finish.
On large flat areas, a roller is advised to help apply the product faster, once rolled quickly lay it off, using the tips of a high quality synthetic brush.
For advice contact our Technical Advisory team by emailing
ppgextra@ppg.com
or calling 01924 354354.